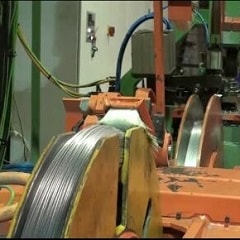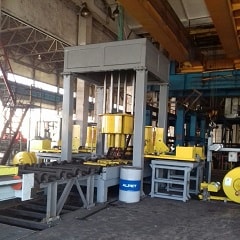 The problem caused by following factors:
原因1:业主来料的尺寸规格不符合合同定义的尺寸。原定最大尺寸为650mm。在设备调试期间,根据实际来料,现场最大高度增加到了700mm。
客户来料经过压缩后,货物高度仍超过700mm,会使上压缩油缸柱塞承重过大,导致上柱塞位置发生移动上下带槽配合不到位。
1. The size of the wire coil is not match the designing. According contract what we made is for Max.Height 650mm. But now the wire coil hight upto 700mm. While the wire high didn't reach to 650mm, the hydraulic press dwon device will force to pressing the wire. By this way the press is too much that deforming the pressing device and the upper orbital fix on the pressing device is not able to connect to the down orbital properly.
解决方案:建议业主解决来料高度的问题。
Solution: Makes the wire coil 650mm
原因2:业主提供的打包带弯曲半径太小,打包带在沿带槽运动过程中带头从带槽的连接处窜出。
解决方案:建议业主更换回弹强度大的,质量好的打包带。
2. Customer's PET belt bending is too much, not stright. The bending belt is very easy out of the orbital.
Solution: Chang the PET belt into the one with less bending and good springback.
原因3:现场为调节带槽高度,由于现场条件有限,延长带槽选用的扁铁,没有送带护板。也会导致打包带从带槽中窜出。
3. For the strappig the wire hight upto700mm, the orbital was modified and add a flat sheet in commissioning. The flat sheet is without two side protection, so the belt is easy out of the orbital.
解决方案:将柱塞上现场延长的带槽再延长30mm左右,让柱塞上的带槽插入到顶升带槽的喇叭口内。见图三:我厂可以有偿提供延长的带槽。
Solution: Extend the orbital 30mm more to make the upper orbital connects with with down orbital.
You can make by yourself, or we can provide it in cost.